Our RF 5 in 1 LED controller is suitable for all kind of low voltage LED strip light,such as Mono color/dual color/RGB/RGBW/RGBCCT LED strip lights. It is so far the most advanced controller, which integrates RGB management, CCT adjusting, and dimming function.
1.Our RF 5 in 1 LED controller is the best Wifi controller to manage the color changing of your RGB strip light. It has below major features: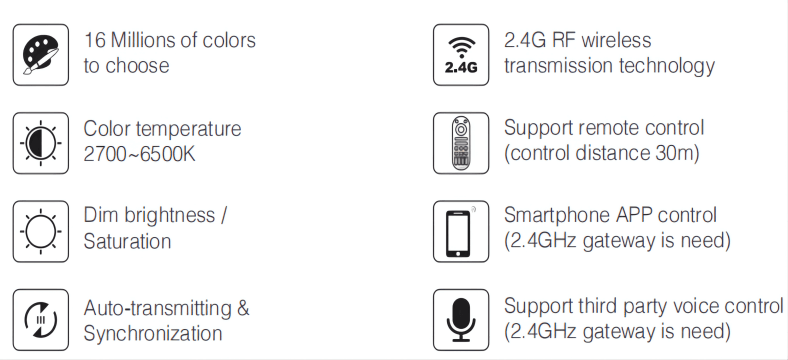 2.Connect to LED strip
Notice:controller input voltage must be accordance with the required voltage of the LED strip light.
Input voltage=output voltage
3.Introduction
5 in 1(Single Color&CCT&RGB&RGBW&RGB+CCT) smart strip controller is our newly developed high-end LED controller controlled by wireless remote controller, also with smart phone control and 4G long distance control (2.4GHz gateway is needed). The controller has auto-transmitting and auto-synchronizing function and with brightness, CCT, RGB, RGBW and RGB+CCT output mode. This controller adopt the widely used 2.4GHz wireless technology with the features of low power consumption, long signal transmitting and strong anti-interference,etc. One compatible remote control many controllers at the same time. Widely used on the controlling of hotel lighting and home lighting.
Switch output mode:Short press "SET" button to switch the output mode.The indicator lamp is flickering means the switching successfully. Different colors flickering correspond to different output mode.Details show below sheet:
White light flickering
Yellow light flickering
Red light flickering
Green light flickering
Blue light flickering
Single color mode
Dual color mode
RGB mode
RGBW mode
RGB+CCT mode
(Default mode)
4.Remote controller
Compatible with these remote controllers(purchased separately).For more details,pls read the remote instruction.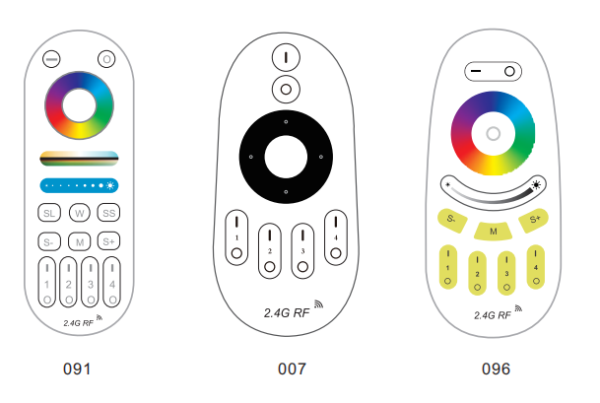 5.Auto-synchronizaiton function
Different controllers can work synchronously when they are
started at different times,controlled by same remote,under same dynamic mode and with same speed.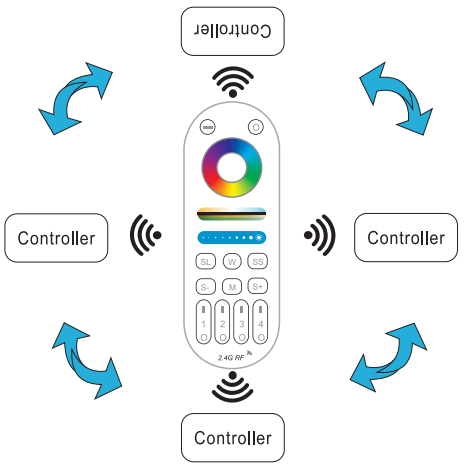 5.Auto-transmitting Diagram
One controller can transmit the signal from the remote control to another controller within 30m.As long as there is a controller within 30m,the remote control distance can be limitless.
6.Free screw when connect with LED strip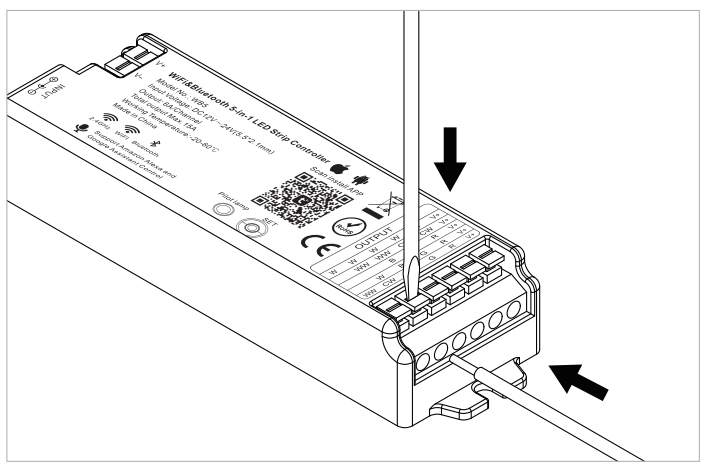 As is seen from above,the RF 5 in 1 LED controller is the most powerful controller, which combines multiple functions and easily integrated into smart home control system. It will be used for more and more lighting applications.